I woke up early this morning trying to think of something interesting that I could write about today. When I'm stuck in a creative rut, I often turn to Reddit for inspiration. The site does not disappoint when it comes to sparking interest.
A discussion popped up in Ask Reddit about Simone Biles who is an American athlete that pulled out of the Olympic games due to mental health issues. The question was worded as "mental issues" which is just in poor taste. The proper term that is used among health professionals is "mental health" or "mental well being."
I feel that I can speak on this subject, not just from my own struggles with anxiety over the years, but as someone who worked in addictions and mental health for many years as a program administrator. I learned so much about trending topics, new treatments and how to recognize the signs when someone is struggling with their own mental health.
One of the goals of our project was to help promote positive awareness around mental health and also to reduce the stigma that plagued society and the media when it came to people who struggled with serious mental health issues. One person that comes to mind here instantly is Kanye. The man is clearly bi-polar and yet the media feeds into his delusions and makes it so much worse for him.
Before I get into answering the question, first of all – let me introduce you first to who Simone Biles is. I had to look this one up and she has a fascinating story behind her. If you want to read more about her, then start here with this article from CTV news on how she's made mental health the talk of the Tokyo games.
To learn more about what happened this week, this video does a really nice job of summarizing her story.
---
Simone Biles
Simone Arianne Biles is an American gymnast who holds the record for having the most World medals – 25 of them. She's won 19 gold medals which is an incredible feat for someone her age which is 24 years old. She is dubbed as one of the most dominant gymnasts of all time.
Biles is not a stranger to competition and has spent much of her young life training in the gym. According to biography.com, Simone's mother struggled with a substance addiction and so she was raised by her grandparents.
She began her competitive career in 2007 and by 2011, she had already reached junior elite level. To read more about her accomplishments, read the full biography here.
---
2020 Tokyo Games
An announcement was made earlier this week that Simone Biles has withdrawn from the 2020 Tokyo games. She had qualified for four final events but will not be participating in all of them. An official statement was released following medical evaluation and it was announced that the 24 year old athlete was going to instead, focus on getting well and her own mental health issues.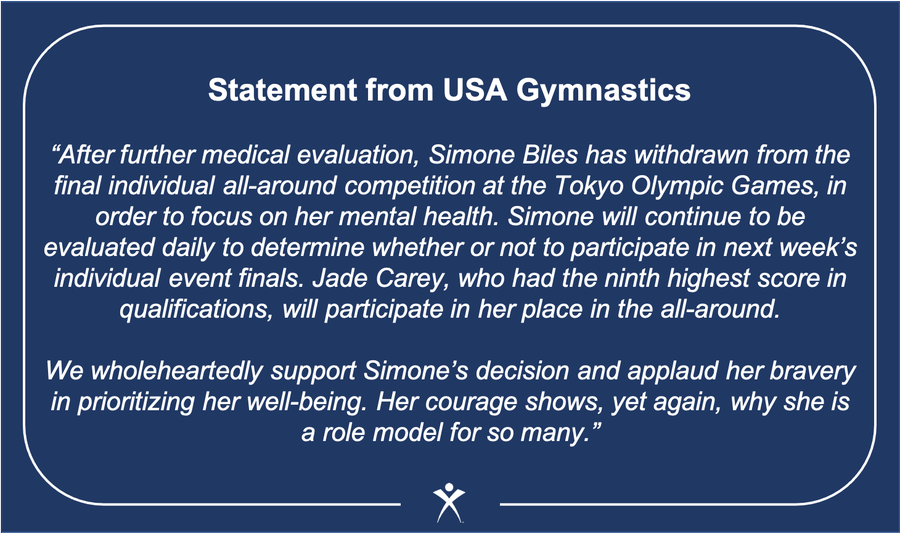 "After the performance I did, I just didn't want to go on," Biles said after the event. "I felt like it would be better to take a back seat. I didn't want to risk the team a medal because they worked way too hard for my screw ups."
​
Biles later admitted that she had not been injured during the vault event and that she had a serious case of the "twisties" that she could not ignore. She goes on to say, "I don't trust myself as much anymore… Maybe it's getting older. There were a couple of days when everybody tweets you and you feel the weight of the world."
I had to look up what the "twisties" meant, and according to an article on NCB news, they are described as a sensation or feeling "you literally cannot tell up from down."
"I didn't quit, my mind and body are simply not in sync"
For anyone who has struggled with exhaustion or anxiety, they will be easily identify with this statement. As a competitive musician back in the day, I understand the pressures and anxiety from live performances. I would get butterflies in my stomach. Even today, in my 40's, if I'm performing in front of a large crowd, my knee will start shaking at the piano. This happened a few years back at an organ recital and I was unable to use the pedals as a result.
When you're a top athlete like Simone Biles, the pressure is way worse. She had the entire world watching her every move at the games. These athletes train like crazy, and put in full days of hard physical work. This alone can be draining on a person's mental well being. There's this sense of not wanting to disappoint your team or trainers or family. So, you push yourself way beyond what your body is physically capable of handling.
---
Mental exhaustion
Mental exhaustion is a real and serious problem. It starts as brain fog. And then one day…
You ignore that tiny voice in the back of your head that nags at you telling you to take a break. Until one day, that voice stops. And everything just stops. Your brain just sort of, shuts down from exhaustion. It leaves you feeling drained. But the brain fog is the worst part of the exhaustion. And that can last for years.
Tasks that were once enjoyable to you, feel more like a chore. Socializing leaves you drained for days. And you tire out so easily. You feel like you could sleep for hours, or maybe even days.
---
The competitive streak is damaging in many ways
I speak from experience. I worked myself hard since I was fourteen years old. I began competing in music at the age of eleven. I started babysitting full time in summer months at thirteen, so I never really had a break. When I was in school, I was taking piano lessons, theory lessons, playing in the school band. Later in high school, I joined the city band and was always off to rehearsals or competitions.
I loved it. But eventually, it would contribute to a complete emotional break down. One that I'm still recovering from.
For many years, I worked full time and tried to have a career in music and competition on the side. I started volunteering at the church as the only musician. I started playing for choir rehearsals, weddings, funerals, and regular Sunday services. All along with working a Monday to Friday job, trying to have a meaningful relationship, and spend time with my dad who was diagnosed with Parkinson's Disease.
And yes, performing for me was fun – it was thrilling. But it was also fucking draining. The amount of preparation you put in, practice time, and then the anxiety of being on stage in front of others. And then I started getting into community events and performing at festivals.
I did this up until 2017. Nearly 40 years of music. I finally retired when I started struggling with exhaustion and chronic fatigue. I had worked myself to the bone – and was disappointed in myself for not taking care of myself. I'm paying for it now, in many ways.
And then I got really sick in 2019, and my body hasn't been the same since. I pushed myself for so many years that it caused me not only to age faster, but also, I burnout faster than ever before too.
The stigma of mental health and emotional burnout
It's sad that in 2021, there is still a stigma associated with mental health issues. I've been criticized even in this blog and made fun of for openly discussing my own struggles. And I'm just a small blogger online. Imagine being a world known celebrity like Simone Biles who has had millions of people watching her – at all times.
When you're competing at a national or global level, the amount of stress your body goes through is enormous. Everything you do is monitored or judged by reporters, the media, other athletes and the sports community. If you make a mistake, it's televised and replayed over and over again on sites like YouTube or TikTok.
These events can haunt you for years. And they can all contribute to one's mental well being.
I think it Simone Biles was extremely brave to come forward and realize that she needed to take care of herself. Her announcement, has really brought positive attention to mental health in general.
I believe that this needs to be discussed more openly. And that's why this blog, has always been a safe space for my readers to share their own experiences with their struggles.
I think anyone who makes fun or bullies someone for struggling with anxiety or depression is disgusting. They are part of the problem, not the solution. And the media in general, is awful for this.
I think I'm going to stop there. I'll end this post with a video on emotional burnout. Please remember that there is help out there. If you are struggling, or experience the symptoms mentioned in this video – please reach out to your primary care provider.
And as for those bullies on the internet, I'll continue to ignore them and block them. They are simply projecting their own issues onto others. You don't have to like what I choose to write about. You can choose to just ignore it and move on.
What do you think of Simone's decision? Let me know in the comments.
Follow blog for more self-help articles like this one.