It's Saturday morning. I'm showered. Dressed. My hair is washed and dried. I've got my toasted bagel and cream cheese with a banana for breakfast. A cold glass of milk. And a hot cup of coffee. It's instant coffee. I drink instant coffee now.
And it's snowing outside. Yes, it's like the snowpocalypse today. We're supposed to get about 10 to 20 cm. It wouldn't be so bad – it's actually kind of pretty. But the lack of sun makes it hard to get up in the morning. I guess winter really is here to stay. And I'll say it – we've been lucky up until now.
But back to instant coffee.
Apparently, it's all the rage in Denmark where my family comes from. I held off drinking it because I love the taste of roasted coffee. There's nothing better than waking up to the smell of freshly brewed coffee.
But I found I would brew an entire pot of coffee and only drink one or two cups. And so, instant it is. I have different versions of it. Folgers. Tim Horton's French Vanilla. I might even try Starbucks Pumpkin Spice next.
I'm committed to this. I even tossed my old coffee maker which was nearing the end of its life in with the pile of junk to be picked up.
Yesterday, I spent the day cleaning out my office in preparation for my move in March. That's not much time. Maybe three and a half months. I was hoping to get rid of junk before it snowed. Oh well. But I managed to find a local company who will pick up my goods on Monday. I managed to get rid of three boxes of random stuff.
Books, cd's, dead appliances. I've gone through two HP printers. One died last month after putting in a new cartridge in. I was not impressed. There's a huge pile waiting to be picked up and it feels good to purge.
Next up is my bedroom. I really need to downsize on the amount of clothes I have and give stuff away. So if you're in Edmonton and need some plus sized business casual clothes, let me know.
I haven't done much cooking this past week as I am still having a problem with the mice. Finding a new nest near the traps was enough to give my notice to my landlords. I'd like to have a place lined up by early February and all the paperwork signed and sealed.
I'm keeping an open mind to what kind of home I want and where I want to live. It will really boil down to affordability.
My dream condo I was looking at last year has been on the market but for much higher than I can afford. I reached out to my friend last night – her mother owns it. I said if your mom is willing to lower the rent I'd be happy to take it. We'll see. She may not want it to sit empty that long. But — sometimes it pays to wait for the "dream" tenant who rents from you for 5-10 years. Right?
For $1350 a month, that view would be worth it alone. I want to live here (the photo was edited digitally, the floor isn't that white).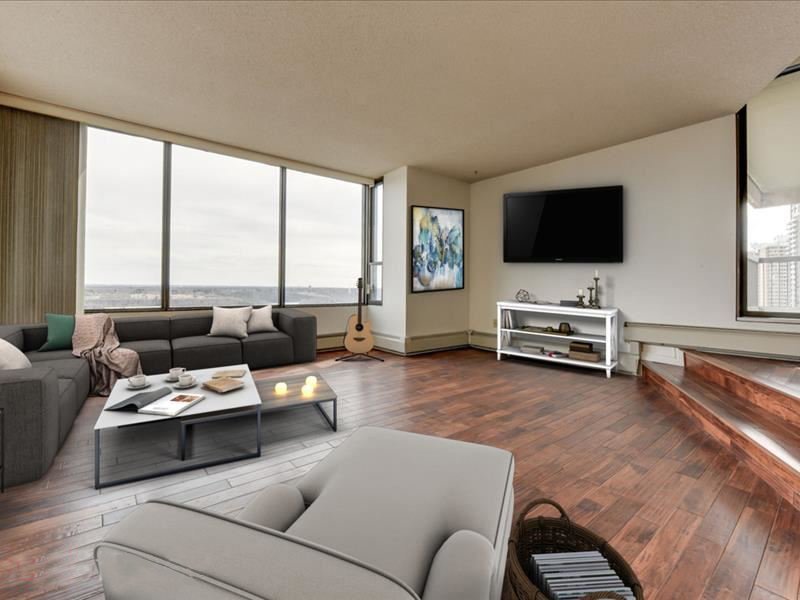 It's an investment.
I'm also going to need a lot of furniture if this works out. Like a couch that big. And then a piano.
And on that note, my coffee is getting cold. I'm off to listen to create some playlists on Spotify. Eat my bagel. And maybe even put up my Christmas decorations. Because what else can we do right now?
Happy Saturday.