I've moved onto season three of my Sex and the City re-watch. Miranda is living with Steve (whom she eventually marries later on). Carrie is dating Aidan – we all know how that turns out. Charlotte is desperate for marriage and claims she's going to "get married this year damnit." And Sam – well, Samantha has her usual sexy adventures but this time with a doctor who is addicted to Viagra for sexual purposes and gratification.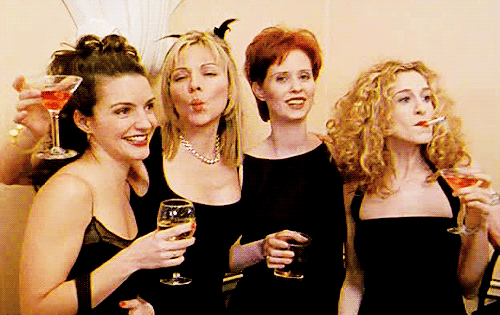 One scene in the episode "Drama Queens" really stuck with me and I felt compelled to start this post. I mean, how else am I going to get inspired to write about relationships as a single person?
---
Miranda and Carrie are walking down the street while discussing Steve's "skid marks" and how their relationship has become "too comfortable" since moving in together.
Carrie says to Miranda, "Aidan's acting exactly how I wished Big would react, and I'm acting exactly like the way I wished Big would have behaved."
And Miranda, with her big voice of reason pipes up with this:
Maybe you don't believe it's real unless someone is playing hard to get.

Miranda – Sex and the City
Isn't that the way it goes though? When things work out naturally on their own, we as humans tend to over complicate things because it feels too… easy?
---
Do all relationships have to have a purpose?
Out of boredom, I ignored my own advice and hopped onto Reddit to see what was happening. Someone asked this loaded question in one of the subs I'm a member of. It's a great question. One that got me thinking about my past relationships.
And let me tell you faithful readers, there were a LOT of relationships. I dated many guys in my younger years. It's probably why I am "living the single life" as I do now.
I always read through the responses before giving my own feedback because sometimes a comment will spark a memory or I might see something I really agree with. But this comment. This winner right here – just pissed me off. And I ignored my own advice about not arguing with random strangers on the internet.
Relationships are essential to a healthy and happy life.

Marriage is a ritual and affords special status in societies. Sex outside of marriage is frowned upon or even severely punished in many societies.

Some random asshole on the internet
I responded to this ignorant comment with:
So you're saying single people can't have a rich and full life being on their own? That's pretty condescending.

Me – taking this too personally
And this is when it hit me. This is when I knew I had made a mistake. Some stranger had given me a reward for my comment. And just when I was feeling good and congratulating myself for the award, I received this comment back.
No. But we are not solitary animals. I don't think a life in solitude is full and rich. Regardless, it's what some choose.

Most relationships aren't sexual and some marriages aren't sexual. But we are sexual animals. I don't think a life without sex is rich and full. Regardless, it's what some choose.

I've certainly been arrogant, condescending, petty, vindictive, cruel, you name it. But I've found it's best to give internet strangers the benefit of the doubt. There are already too many Karens on the internet who have appointed themselves morality police.

A random troll on Reddit
DID HE JUST CALL ME A KAREN?????
I don't think a life without sex is rich and full. Regardless, it's what some choose.
This comment was spoken by some idiot who has never experienced peri-menopause. There just comes a time in your life when sex isn't the most important part of your life. Hormones can really have an impact on your overall drive. And you get to a point where you don't even think about sex all that much anymore.
But I would NEVER dismiss someone who made that choice and tell them that their life isn't rich and full because they aren't having sex. That's just plain ignorant. Not everyone needs sex in their life. And for me, at this time, I'm just not that into it.
---
What's the point of being in a relationship, if your endgame isn't marriage?
---
But what about marriage? Don't you need to get married to define your social status? Don't you want to get married, have two kids, the big house with the white picket fence and a pet dog? Don't you want the — American dream?
My answer to this is always the same.
Some people just aren't meant to be married. Common-law is just as good as marriage where I live. Sometimes having that piece of paper that makes the relationship official, just makes things more complicated. I'm okay with being on my own. It's the married people that can't seem to accept my lifestyle choices. Why should I get married – to be placed into a proverbial box that defines my social status? Because it makes you feel better about your life choices?
Since when does being married define who I am or how I fit into society? Since when does being single mean that I'm not contributing to society in some way? I work (usually). I pay my bills. I pay taxes. I contribute to the economy. I vote. I participate in things that matter. I even recycle. I don't do drugs. I don't commit crimes. I even file my taxes annually and on time.
But just because I'm single — that makes me a lesser part of society than a woman who is married with kids, has the white picket fence and a dog?
That's just bullshit – pardon my French. But it really is. Pure and utter bullshit.
---
And why do all relationships have to have a purpose? Why do relationships need to be defined or have a label to describe them? Does it really matter what we call our relationships? Does it matter if relationships are long-term, short-term, monogamous or poly? Does it matter if I just want to have fun for a night, or a week or a year? Does it really matter to anyone but me?
At the end of the day, if two people enjoy each other's company and strive to make each other happy – isn't that what really matters? Why do we need a piece of paper to validate our feelings? Because society deems it so?
Fuck society and social status. You being married doesn't make you any better of a person than I am for choosing the single life.
Don't get me wrong. I don't hate marriage. It's just not for me. Some of my best friends are married couples. And I'm happy for them. I'm just tired of constantly being asked, "don't you want to get married?"
Why over complicate things with labels? Why put pressure on relationships when there doesn't need to be? Yes, I have people in my life that I can turn to and invite out for dinner, drinks or just hang out with. I have friends that are men and women. We get together. We have fun. We solve all the world's problems together while sipping back a few glasses of wine.
And then I go home to my bed. And they go home to theirs. And I am perfectly fine with these arrangements. My companions, mean more to me, than any sexual partner I've ever had. And these relationships – these friendships – these people are my soulmates in the sense that we are friends for life.
My life is as rich and fulfilled as I need it to be at this very moment that I write out this long winded rant. I don't need some ignorant person on the internet to tell me that I'm doing "life" all wrong. And I don't need society trying to define who I am – through my relationship status.
---
So, what's the point in being a relationship if you don't plan on getting married?
My friends, I'll leave you with this quote from Sex and the City to let you ponder on this – next time you ask your single friend "but don't you want to get married?"
The most exciting, challenging, and significant relationship of all is the one you have with yourself. And if you find someone to love the you that you love, well, that's just fabulous

Sex and the City
And to quote the ever adorable Samantha Jones: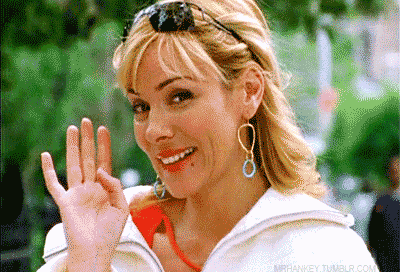 I love you. But I love me more. I've been in a relationship with myself for (43) years, and that's the one I have to work on.

Samantha Jones – Sex and the City
---
---
Thanks for reading. I'll be writing the occasional rant or article about relationships as I continue my re-watch. This is something I do every few years and it's one of my favorite shows from the late 90's. But it's funny how you can watch a show with a different perspective later in life and as you reach a certain age.
Thanks for reading!
---
Sex and the City
Sex and the City Rewatch #3: Do we need marriage to define who we are in society?
---
Never miss a post! Subscribe now.