So, this is something I've never mentioned here in this blog in the three years I've run it. It's not a new discovery for me – but as part of my "getting healthy" journey, I have rediscovered my love for herbal teas.
As the granddaughter of a proud British man, I learned early on in life, that tea was the staple drink in our house. I still remember the smell of freshly brewed Red Rose tea when he came over for visits. I wasn't a fan of black tea and didn't start drinking coffee until I was in my mid-20's. But after mum died, we marveled at how amazing tea was if made in her favorite tea pot.
Is it weird to say that drinking tea sometimes makes me feel closer to her now? I always think of her sipping tea out of her favorite blue tea cups with a smile.
Coffee for me is a must have morning drink. But in an effort to cut back on caffeinated drinks, I switched to drinking at least one or two cups of herbal teas before bed. But the real reason that I switched back to drinking herbal teas is two-fold.
I'm tired of being sick. All medications have stopped working for the migraines and nausea. I got tired of popping pills every night which are often hard on the stomach. And so, about two weeks ago, I started drinking herbal teas. And thankfully, it has really helped with the nausea.
Years ago, when I studied Wiccan practices and rituals out of pure curiosity, I discovered a love for herbs and herbal remedies. I learned that most herbs could be used for medicinal purposes. And the easiest way to ingest these herbs safely – was through drinking tea.
Today, I'm going to share some of my favorite herbal teas with you and why I believe they can be beneficial to your overall health.
---
Chamomile Tea
At the top of my list is chamomile. I have a pot of chamomile trying to grow in my kitchen right now. The plant isn't doing so well. I love the smell of chamomile. It's like a combination of apples and flowers.
Chamomile has been used in traditional medicine for thousands of years. It's main use has been to calm anxiety, induce sleep, and settle upset stomach. The easiest way to ingest chamomile is by brewing or steeping as a tea.
The reason I started drinking chamomile tea again was two-fold. I thought it might help with the nausea I've been struggling with, but it also helps with relaxation. The medications stopped working for my insomnia, so I've switched to taking a ginger gravol in combination with a cup of chamomile tea before bed. And I sleep like a baby.
If you suffer from skin issues like dry and itchy skin or eczema, you can take a chamomile tea bath or use ice cold tea on your skin as a rinse.
Be careful not to drink too much chamomile tea. 1 to 2 cups daily should suffice to help aid with stomach issues. If you take sedatives or blood thinners, there is a small chance that chamomile could interact with them. If you have any concerns, talk to your doctor.
I would recommend buying tea bags like Twinings or Tetley as these can be safer to drink than brewing the tea yourself.
---
Peppermint Tea
Peppermint is a popular herb used as flavouring in breath mints, candy and some recipes. It contains menthol, menthone and limonene. Not only does peppermint tea taste delicious, but it also has several health benefits.
If you're a fellow IBS sufferer, then peppermint can help aid in easing gassy pain, bloating and digestive issues. In addition to helping with digestive problems, this tea can provide some relief to migraines and headaches. This was a huge bonus for me and I can't help but wonder if it's the reason I've experienced less migraines this week. And not to be a bragger, but peppermint tea has also been said to help with menstrual cramps and pain.
Plugged up with a stuffy nose or got the sniffles? Peppermint can also be used to help relieve clogged sinuses. Now that allergy season is in full bloom, you might want to keep a stash of peppermint tea on hand along with broth or clear soup.
The list of benefits that comes with peppermint tea ranges from sleep, migraines, reduction in cramps, but it doesn't stop there. This glorious and refreshing tea has also been known to aid in weight loss and to help boost your concentration and memory.
Peppermint tea might just be the tea of all herbal teas. And it's definitely on the top of my tea list! I actually tried to order a peppermint plant but the plant shop was out 😦
---
Lemon Tea
Lemon trees are small evergreen plants that predominately grow in southern Asian countries. However, lemons are also grown in southern US states like Florida and California. Lemons are part of the citrus fruit family like oranges and grapefruits.
Like oranges, lemons are packed with vitamin C which helps boost the body's defense against infections. They are also loaded with calcium and magnesium which are essential nutrients.
Vitamin C is known to boost immunity and helps improve reproductive health. Lemon teas are usually paired with ginger, which can also promote healthy digestion.
Lemon tea can also help boost your digestive function, battle infections, reduce inflammation (joint pain or stiffness), enhance skin health, and heart health.
If you struggle with inflamed gums, lemon can help reduce the inflammation in between your dental visits. Other benefits include reduction of migraines, regulating blood sugar levels, alleviating depression and anxiety.
Not only does lemon tea provide you with all these great health benefits, but adding lemon juice to your favorite recipes gives it that extra punch for flavour. So, it makes sense that lemon tea is so popular!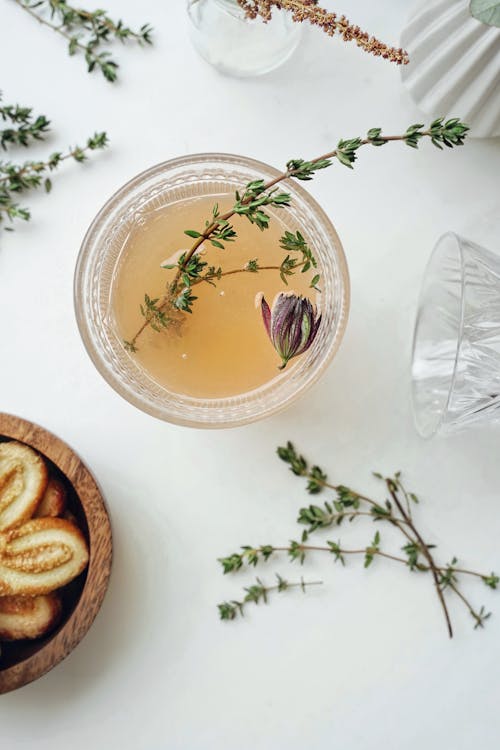 ---
Green Tea
Green tea is one of the most popular teas in North America and can found in many forms and flavours. It's loaded with antioxidants that have an abundance of health benefits.
This tea is named for its color as unlike other teas – it becomes a beautiful shade of green when brewed. Steamed green teas taste bittersweet while other teas come out sweet. It could be why I like it so much. There is a science behind getting the right flavour for green tea – and it's all about hitting the right temperature and sleeping time.
Like peppermint tea, green tea has a multitude of health benefits. It's been proven that green tea can help improve brain function, speed up fat loss, protect the body against cancer and aid in lowering the risk for heart disease.
Green tea contains healthy bioactive compounds like polyphenols which is useful in reducing inflammation and fighting cancer. Other antioxidants can help prevent cells and molecules from damage.
This tea contains caffeine so it is not recommended to drink at night time. If you're not a fan of coffee, consider drinking green tea in the morning to start your day. It is said that green tea can help improve brain function, and can improve your mood, reaction time and even memory. But one of the more popular benefits of green tea is that it can speed up the process for fat loss which is great if you're trying to lose weight.
So for me, green tea is delicious but I'm placing it in the fourth spot of this list because it does contain caffeine.
---
Popular Herbal Teas
These are just a few of my favorite teas. Other popular tea flavours include:
Matcha Green
Ginger
Hibiscus
Echinacea
Sage
Lemon Balm
Rooibos
Rosehip
Licorice Root
Sleepy Time Tea
I haven't tried these teas yet. I'm shopping on Amazon for tea samplers so I can have a variety of tea flavours on hand. Many of my friends are tea drinkers so it is the right thing to do!
I can tell you that my cupboards are now stocked with green tea, peppermint tea, lemon tea, earl grey, chamomile and now – matcha tea. Which I think I brewed wrong because I was not a fan of the flavour.
---
Popular Brand Teas
I'm partial to brands like Twining and Tetly. If I can't find something in Twinning packaging, then I'll go with Tetly. These are definitely my top choices. When it comes to tea, I try to get the "good stuff" and not cheap out.
David's Tea is a popular store to visit at Christmas time and for birthdays in our family. Everyone loves the gift of tea. And everyone loves a good tea sampler.
---
What are your favorite herbal teas? Have you tried them cold as a summer drink? If so, let me know in the comments!
Living Well Series
---
Follow blog now!
Love this kind of content? Then stay tuned. Mostly Single is transitioning into a health and wellness blog with a strong focus on herbal, and natural remedies. Join me as I embark on this chapter of my life – that I call spiritual awakening.