This is a repost….I love my Hygge home. But decorating is put on hold until Christmas due to finances!
Since moving into my new home seven months ago (hard to believe) – I've been almost obsessed with making it feel like home. This is a continuous work in progress. I couldn't understand my desire or need to make it feel like home. At least until one of my Danish cousins kept saying, "That's so Hygge!" on my condo photos that I was sharing on social media.
For those of you who don't know, I come from a family that has a very strong European background. My dad's family is Danish as far back as it goes. We've traced our history back 200-300 years. My mother's family was English and Irish mostly. We have some German in our background but we don't know which side – probably dad's family at some point.
Even though our family has been in Canada since the 50's, they are Danes at heart. One of the reasons I accepted the volunteer gig as an organist at the Danish church, was to learn more about Danish music and the culture. The Danes love their food, baking, good wine, and getting together with family and friends. Music is also a huge part of the Danish culture and it explains why I've always felt passionate about it. My father played the piano and violin as a kid. His dad played all the instruments he could get his hands on. And my grandmother loved to write silly songs and poems for special events. My aunts were all wonderful singers. We have a very talented family.
So, on this Thanksgiving weekend, I thought I would share with you what being Hygge means and how it applies to me. A half Dane living in Canada. I hope you'll stick around with me as I explore this important part of my culture.
Lighting is still a work in progress. I will be getting some white lights for Christmas and some LED candles.
Updated with fall decor:
---
What is Hygge
If you're on TikTok, and you're into home projects, you've probably come across videos with the hashtag #hyggehome. The Hygge lifestyle has become a major trend in recent years. But what is Hygge exactly?
Hygge, pronounced hooga, is sort of a way of life for the people of Denmark and Norway. It's about being happy, focusing on the simple things in life – and bringing comfort into your home.
"Why not follow the Danish example and bring more hygge into your life?"
Being Hygge is more than a feeling of comfort or coziness, it's about being present and living in the moment. It's about enjoying all the little things in life. It's about finding happiness in every day things like food, wine, and spending time with loved ones. There is no one word in English to describe the meaning of Hygge.
Winters are harsh in Denmark with cold, dark and rainy days. They don't get snow like we do here in Canada which can make winter really pretty. And since Denmark is so high up north, they get very little sun in winter months. Hygge was created to help the Danes get through the long cold winters.
I realized as I was sitting in my sister's home yesterday and enjoying her Hygge home, that the lifestyle was something I had always longed for. I just didn't understand what is was. And the more my cousins brought it up, the more curious I got about learning what it all means.
Hygge isn't about selling or buying things, it's not about furnishing your home – it's about — living. A simple state of just being in the moment and being present.
Being Hygge
"A defining feature of our cultural identity and an integral part of the national DNA. What freedom is to Americans – hygge is to the Danes." – Meik Wiking
---
Hygge Homes
Being Hygge in your home, means making it comfortable and cozy for yourself, and for guests. Socializing is a huge part of the culture in Denmark. Instead of going out for dinner, many Danes feel more comfortable being in their own homes, cooking food and spending time with family.
How can you make your home more Hygge? It's pretty easy – and won't cost very much. Add some textiles like throw blankets and cushions. Create a library nook – a cozy area for you to read in. Light a fire if you have a fireplace. Replace harsh lighting with soft bulbs, candles and salt lamps. This is going to be my next purchase for my bedroom project!
Wear fuzzy socks on a cold winter day, drink a hot cup of coffee or cocoa, light a fire, bake some fresh bread – and read a book. This here, is the very essence of being Hygge. Listening to music is also a huge part of daily life. I almost always have music on when I'm writing or in the morning as I'm eating my breakfast and reading the daily news.
Just reading these suggestions, you might be thinking to yourself, "Am I Hygge? I do this already!" Well, then you might have just had your aha moment like I did this weekend.
---
Candles and lighting
Candles have always been an integral part of Danish culture. As a kid at Christmas time, I remember marveling at the candle shaped lights on my grandmother's Christmas tree. We would dance around the tree and sing carols on Christmas Eve. That was followed by eating lots of good food, pastries and opening presents.
During long winter months, candles are an inexpensive way to light your home and create a cozy ambiance. I've always found bonfires and candles to be comforting. I love lighting candles when I'm outside at night time. It reminds me of simpler times as a child in a Danish family.
Denmark is a country that is obsessed with lighting. Subtle lighting through LED lights, candles and salt lamps are used to make a home more welcoming and create a sense of intimacy. The word candles in Danish is translated to, "living light."
If you want to get even more specific, there are Hygge candles that have a Scandinavian design with natural and bright colors. A truly Hygge candle is one that is unscented, and made from natural products like wood wicks.
Harsh bulbs like florescent lighting is hard on the eyes and not welcome in most Danish homes. If you can, go for natural lighting where possible. And if you don't have access to large windows, then use softer lights with orange or yellow bulbs.
This is on my shopping list for my bedroom. My accent colors are coral, orange and pink.
I did some research and salt lamps are a lot of work. I'm going with led lamps instead.
---
Bring the outside inside
Adding a little more Hygge to your home means bringing things found outside into your home. That means storing things like firewood by your fireplace, filling your living room with green plants and flowers. Starting a small herb garden in your kitchen. Or letting natural light into your home with large windows. You can use pumpkins, pine cones and leaves as part of your decor. You can also add things like pussy willow, wheat and other natural decor to help you connect with nature.
I think this is why I've loved having my balcony this summer. There's a huge tree right next to me and it's beautiful. The entire area is surrounded by lots of mature evergreen and sap trees. I know it will look beautiful once the leaves start turning color. All my plants and flowers died due to the hot weather this year, so I am looking for plants that can survive the dark winter months. I think maybe a few succulent plants and some ivy might work well. I'm pulling pictures from Pinterest for inspiration. I love this fireplace set up.
---
Comfort food and family dinners
Connecting with family and loved ones is also part of being Hygge. A common tradition is to eat dinner together as a family. But in these modern times with cell phones and mobile devices, an important piece is to put away the devices during these family moments. Gathering the family together to prepare a home cooked meal is also a great Hygge experience.
Our family used to have weekly dinners where everyone pitched in with cooking. Cell phones were not allowed during the meal. And everyone pitched in with dishes. It's something I miss deeply about the house and my mum. What I wouldn't give to taste her pot roast and Yorkshire pudding again. Family dinners were always a blend of Danish tradition and English treats.
Preparing comfort foods like soups, stews and casseroles, or roasts and vegetables are also part of the Danish culture. The Danes have this delicious dumpling soup that my grandmother would make on special occasions. It's been years since I've had it.
Pastries are also a popular tradition in Denmark. Filling your home with the aroma of spices like nutmeg, cinnamon and using ingredients like marzipan is a great way to add a little Hygge to your daily life.
This is one thing I look forward to every fall. Soups, stews and hot casseroles. I think for me it's more about comfort and remembering my mum in the kitchen.
Bread is a kitchen staple in Denmark. Many of my Danish friends make their own breads. Rye bread is very common to have with open faced sandwiches (smorrebrod). Or you can whip up a batch of scones to pair with your freshly brewed soup.
---
---
Hygge Living
If you want to learn more about the Hygge way of life, then I recommend reading a few of the Hygge books. You can order them from any book store. The Little Book of Hygge by Meik Wiking is a popular book for the Hygge lifestyle. It's a perfect read for a chilly or rainy fall day. Curl up with a cozy blanket, hot cup of coffee or cocoa, light some candles, and enjoy.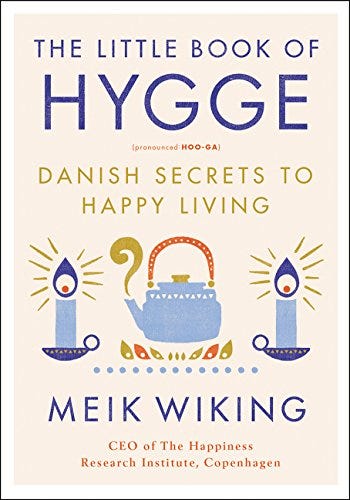 ---
Thank you for reading!
Thanks for reading. I'll be sharing posts and ideas on how to decorate your home and make it more Hygge. I've entered a nesting phase of my life. I'm not able to work due to health issues and a physical disability – and so having a cozy and comfortable home is extremely important. My family is becoming more and more important to me as time goes on. I'm looking forward to cooking dinners and creating new home memories with them all.
I'm excited to share this journey with you. Please follow my blog if you're interest in learning more about my Danish heritage, my passion projects such as music and art – and recipes for comfort food, healthy baking and more!
I write often – so you can expect almost daily posts from me. It's my therapy. And part of being Hygge.
---
Follow blog now!
---
Donations
If you'd like to help contribute to this blog, or buy a gift for my Hygge project – then feel free to check out my Amazon Wish List. I accept gift cards too! Or you can donate via Paypal.
Help keep Mostly Single ad free with a donation. Or buy me coffee.
---
Amazon Wish List
https://www.amazon.ca/hz/wishlist/ls/4TKZ0Y48HKBJ?ref_=wl_share